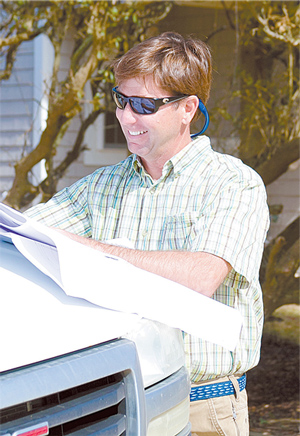 At a time when cookie cutter beach cottages and cosmetic renovations seem a regular part of the construction landscape, Jason James of Albemarle Contracting Services seems to stand out.
Specializing in custom work, he does every thing from new home construction to remodels, and every project he takes on is unique — a situation that matches his personality. "I like to do construction," he says. "I like to do it all."
Jason has been steadily garnering recognition for his work, but his entry in last year's Parade of Homes was truly spectacular. A remodel of a home on the Causeway in Nags Head, the exterior before-and-after images reveal a whole new look for the structure.
It is the interior, though, where the most remarkable transformation occurred. A large multi-bed room home overlooking the Roanoke Sound, the interior began it's life as a closed-in box with multiple rooms. When Albemarle Contracting finished, the top floor's kitchen and living room became an open, spacious marvel with views across the water from every corner of the floor. He is one of those lucky people who understood what he wanted to do early in life, pursued his goal and is living his dream. "Growing up on a farm over in Creswell, I decided when I went off to college I didn't really want to go back to the farm. I started doing odd jobs in construction to finance my college career," he says. He took some courses in construction at East Carolina University and started working in the field in Raleigh to get the experience he needed." I ended up meeting a girl from this area and we decided to settle on the Outer Banks," he says.
"It was slow until I had my first home in the (2004) Parade of Homes and that just jump started it all," he recalls.
If there is a style that marks a Jason James home, it's the classic beach look. "I like the Nags Head style. Growing up here in Eastern North Carolina, it's just a style that has grown on me,' he says. "The open porches, openness. It's a beachy feel. When you come on vacation, you want that feel. I like tall and open and a lot of light – definitely a lot of light.
One of the hallmarks of the work James does is being able to take his clients's ideas and make them real. The key, according to him, it knowing where to do to develop the ideas. "I don't do it all (design work). Florez does some of the work and a couple of other ladies, who live here on the beach," he says. "Some are better at remodel and design plans. It depends on what we're doing. You try to match the homeowner's vision to the designer."
It's a team that creates that, and creating that team is what motivates him. "I try to make people as comfortable as I can." he says. "I enjoy that interaction, being open-minded to their ideas.
Story by Kip Tabb, Photo by K. Wilkins Photography